Story
The story of Peter Franus – the person, the winery, the wine – may just be the Great American Wine Fairy Tale.
It includes a man searching for a path who could not ignore his calling. It includes hard-earned lessons from a rung-by-rung climb up the wine ladder, and graceful and delicious wine born of experience, tradition and intuition. And, of course, it includes romance.
Peter Franus is a respected Napa Valley winemaker and an insider secret in the wine industry. For 30 years, he's bonded with the mountain and hillside vineyards of the region, and particularly Mount Veeder on the southwestern flank of the Valley. He has made friends and found avid supporters who connect to his disarming wit and earnest approach to winemaking and to life, he has spent decades choosing the best vineyards, and he has produced small batches of highly praised, soulful and, most of all, delicious wine.
...one of the 'great insider secrets in the wine industry'
He is, in a many ways, the model for how a journey into wine might evolve – there's hard work, there are crossroads and tough times, there's the emergence of a singular winemaking style, and there is, naturally, romance. And any good fairy tale starts with the romance, so this story does, too.
WHERE THE ROMANCE BEGINS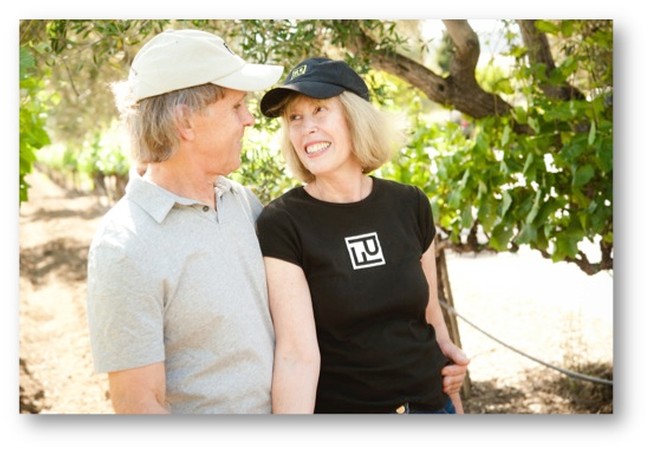 The year was 2000, nearly two decades after Peter Franus began making wine. By then he was an established winemaker, though still something of an insiders' discovery in Napa and in California wine.
That same year, Deanne, an attorney for the state of California, was visiting Napa Valley with her friend Diane. They were in town for the classic escape to wine country.
The women had dinner at the Foothill Café on Old Sonoma Road and asked the waiter to recommend a local wine of good value--it turned out to be the 1997 Franus Brandlin Zinfandel. They loved the wine, and made an appointment to visit the winery a few days later.
After their tour and tasting, Deanne and Diane hung around a bit while Peter's dog, a black lab named Mia, was running around. The conversation was relaxed and friendly.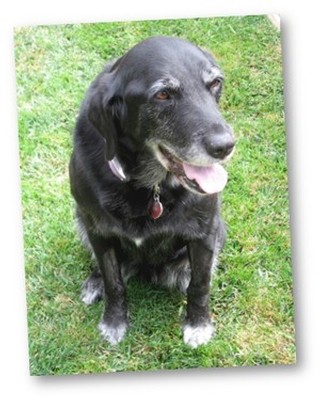 Several months later, after another visit to the winery, Peter and Deanne had their "first date." And then not long after in February 2001, Peter called Deanne. "Listen," he said, and held the phone out away from him. There were all the noises – the clinking and rattling of a bottling line. "That's the 1999 Brandlin zinfandel. We're bottling it today."
What he meant was, Peter had chosen to bottle Deanne's favorite wine, and the wine that had brought them together, on Valentine's Day.
They were married five years later, in 2006. Now they both live in Sacramento, and Peter commutes to Napa to watch his vineyards and tend his wine.
The Peter Franus story/fairy tale starts like many stories. In the late 1960s, he was finishing high school in Greenwich, Connecticut. He was a good football player, but bright thoughtful kids weren't supposed to be athletes or engineers. They were supposed to explore, search for the new Renaissance, and rebel a little. They were supposed to go the University of California, Berkeley, and maybe save the world.
SEARCHING
Peter's general sensibilities still reflect his years at UC Berkeley and some of that rebelliousness. He's still thoughtful and philosophical about life, and about wine. He's an egalitarian and a humanist, a man aware of people and the world down to a single-person level. And he's intensely anti-stuffy, which sets him a bit apart - and for what it's worth, makes him something of a rebel - in the wine industry. He works to make people feel comfortable. He rolls his eyes at some of the pretentions in the wine world. He talks about wine, and about most everything else, with a wry sense of irony and an almost perpetual hint of a smile.
He was in the right place at the right time to witness first hand one of the great moments in American music - 60s and 70s rock. He has that embedded in him still.
Peter was still in a searching, student-of-the-world mode for a few years. He went to Europe, where the magic and connections of wine were made even stronger for him, but he still felt the esoteric academic world was the route he ought to follow. He lived in LA pondering what his next course of action might be. But even then, wine was wrapping its root around his soul. There was, for instance, a half-bottle of Mount Veeder Winery zinfandel that was the most expensive bottle he'd ever bought. It cost $4. "Something drew me in, and I still remember the impression it made," he says.
In 1978, Peter surrendered to the interior bell that had been ringing for nearly a decade--he enrolled in Fresno State's viticulture and enology program. He answered the call of wine.

GETTING STARTED
When he got there, he was home. "This was what I should be doing," he told himself. It was everything -- the subject, the connections, the intellectual challenges, and maybe most of all, the spirit of wine and its links through society that seemed exactly right. The path that had once felt so hidden and impossible to find was suddenly right in front of him.
At Cal State Fresno, another part of Peter's personality emerged. He started running seriously. He fell for running almost as deeply as he fell for wine, and he still runs most days.
It's not a stretch to say the part of Peter that's a runner has a connection to the part that is a winemaker. Doing either well takes commitment, they both take some faith in yourself - that if you keep at it you'll improve, that your judgment is solid, that doing things the hard way pays off.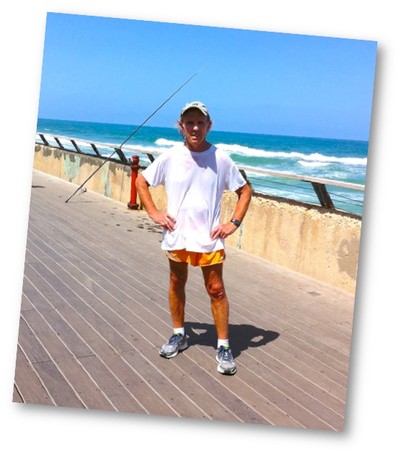 At the end of 1979, a friend helped him get an introduction in Napa Valley. He wound up on Mount Veeder on a stormy winter day for an interview with William Hill, who was then managing the Hess property as well as his own. Peter got hired as a viticulturist working mostly with the Veederhills Vineyard in January 1980. He was in the wine industry.
In early 1981, Peter ran into Michael Bernstein, the founder and owner of Mount Veeder Winery. Bernstein had offered him a job when Peter was still working for William Hill, but at the time it didn't fit right. In '81, Bernstein offered him another job. This time, it was on the bottling line, but they talked enough that Bernstein thought Peter had potential as a winemaker. In July 1981, he hired Peter as an assistant winemaker for Mount Veeder.
MAKING WINE
In the middle '80s, Peter was really learning his craft. He got better and better. He learned by talking with the winemakers around him in the valley and from his own seat-of-his-pants winemaking, as he called it. "I learned by doing and learned to have confidence in my own intuition and judgment," Peter says.
"This was what I should be doing,"
In 1987, Peter made his own wine for his own label for the first time. He had a handful of reasons, starting with his love for zinfandel. By then Mount Veeder Winery had stopped making zin, and he felt someone should be making zinfandel from that mountain. "I wanted to capture the special character of the zin up there," Peter says. In many ways he thought it was better than the well-loved cabernet that grew there.
The first wine was called Franus. "I was committed to that wine and I wanted to show that to people. When you walk into the room carrying a wine with your name on it, that says you're proud of it," he says. By 1987, Peter and Mount Veeder had a reputation for complex, intriguing, well-made wine, and his own first vintage was well received among wine writers and buyers who followed the business.
In 1989, Agustin Huneeus, then the owner of Franciscan Estates, purchased Mount Veeder Winery. Peter became part of a larger winemaking team, though he was still in charge of Mount Veeder, which was considered one of the jewels of Huneeus' Franciscan holdings.
Peter was concerned at first that he would no longer be able to make his own wine, but on the contrary, Huneeus was impressed with what Peter had done with his label.
Peter's own label had a kind of buzz at an insiders-who-know level. They respected Peter, his connections to the land and his winemaking. The Napa Valley Register called him an "acclaimed winemaker" in 1991 and pointed out how his wines were winning piles of awards. By then, he had refined his approach to winemaking. Be engaged in all the parts that matter. Get the best fruit, use all your knowledge, experience and intuition, then get out of the way. "You hover over your wine, you make the wine nervous," Peter said.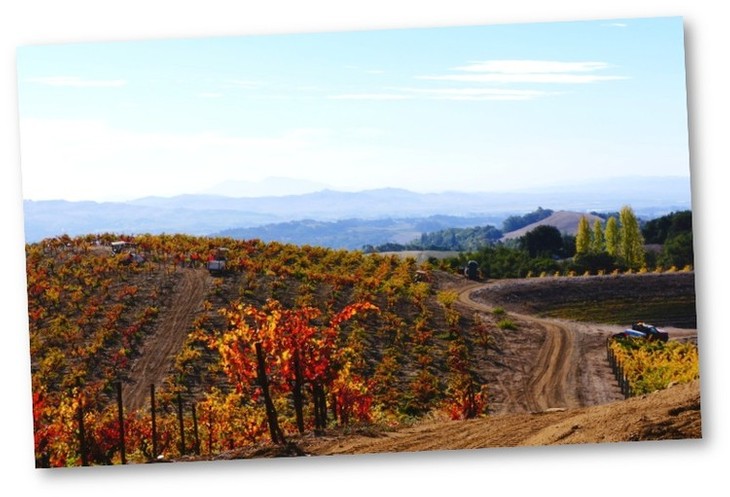 The personal nature of his approach is obvious to the pros. The grace and deliciousness are clear to everyone. That's why the wine has always remained this sort of hot insider secret. People are thrilled when they discover it and they're thrilled to recommend it so someone else can discover it, and so they can be a little bit "in the know."
Peter learned the unglamorous, blue-collar side of wine by traveling and selling Mount Veeder for Franciscan. He learned about wine buyers, markets and sales. He says you have to know your customers. Very few wineries can thrive, or even survive for long, if they don't have people out selling door-to-door. And here's what he learned most from talking to all those people: "Wine should taste good," he says.
"You hover over your wine, you make the wine nervous."
In 1991, Peter connected to a steep, rocky slope of a vineyard on Mount Veeder where the Brandlin family first planted wine grapes in the 1920s. It would become a cornerstone of his winemaking and his brand. He made his first Brandlin zinfandel in 1991, and has made zin with a special personality from that vineyard every year since.
ON HIS OWN
In 1992, Peter was faced with a decision--either to stay with Franciscan or venture off on his own. Peter chose to leave and keep his label. He was putting his heart into Mount Veeder Winery, but even more, he'd invested his soul in his own wine. It let him express himself, just as much as it was a way to let the grapes and the place speak, too.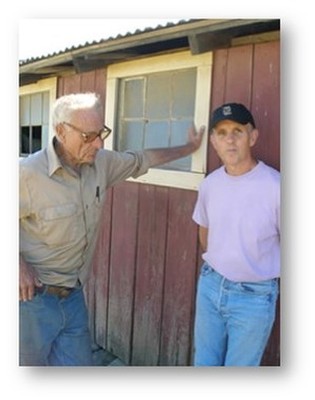 He left on good terms. It was an exciting time, as the economy, the wine industry in general, and Peter's winery, too, grew through the 90s. The boom ended on Sept. 11, 2001.
(Photo of Peter with Chester Brandlin)
In the early 2000s, Peter and the entire wine industry were struggling. But he found some value in the hard times. "You're compelled to look at yourself, and to see what you can do better," he says.
In 2001, he changed the wine's name from Franus to Peter Franus, and redid everything about the look, including the label, the capsule, even the bottle – Peter choose a bottle from one of France's premium glass companies, becoming the first in the U.S. to use that style. The next year, he moved production to the custom crush facility at Laird Family Estate just north of the town of Napa. More importantly, Peter started making less wine and fewer wines. And he focused on the vineyards that were the best.
In the early and mid-2000s, scores went up. Critics praised the wine. Peter Franus wines went from very good to great.
Wine Spectator gave the 2002 Brandlin zin and the 2001 cabernet 92 points and called them the best Peter Franus wines they'd tasted. And Robert Parker Jr. gave four Peter Franus wines scores of 90 or 91 points and said in the Wine Advocate, "For the quality of the wines that consistently emerge from Franus, this winery remains unheralded".
Peter worked hard at marketing the wines and tried to be both innovative and smart. That included going to smaller cities where people were thrilled to have a wine dinner with such a high-quality winemaker. And Deanne was out selling, too. And she was good at it. She hadn't just fallen in love with Peter. Turned out, she'd also fallen for the wine industry.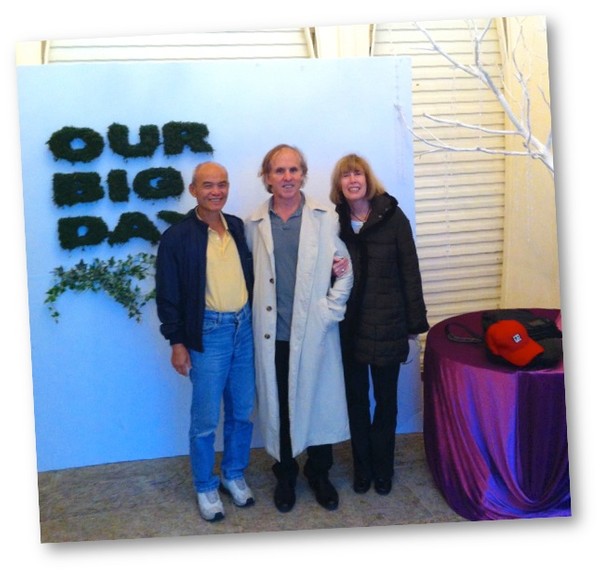 - Peter, Deanne, and Shiu Wei in Taipei
Peter Franus continues to be this talked about insider secret. In recent years, he carefully added new varietals or blends and drew big praise from critics and fans. The first vintage of his Napa Valley Bordeaux, the 2005 Proprietary Red Blend, got 93 points from Wine Enthusiast and 90 from Wine Spectator. The 2007 Sauvignon Blanc was No. 24 on Wine Enthusiasts Top 100 Wines in the World, for the year it was released in 2008. Peter's first Albarino, in 2009, was named Best New World White that year by Decanter magazine's Stephen Spurrier. The 2008 Brandlin Vineyard Zinfandel was Wine & Spirits magazine's number one Zinfandel of the year.
He's expanded in Canada, and has gotten great response for his events there from people who have a lot of respect for the food and wine culture. And Peter has solid followings in Japan and Britain and is selling in places like China, Taiwan, Oman, Belgium, Sweden, Denmark, and Czech Republic.
Peter's vineyards and winemaking continue to shine. At the end of the 2012 harvest, Peter was showing around an international vineyard management expert who had a thing for merlot and who had worked with some of the great merlot houses on the planet, in the US, Spain. And France. They tried Peter's 2011 merlot, which was still in the barrel and still very young. "When he tasted it, his eyeballs expanded." Peter says. "He looked at me for a second. Then all he said was, 'wow'".
"He looked at me for a second, then all he said was, 'wow'."